While many fairy tales end with happily ever after, this runner's story actually begins with it.
Anyone who knows me (or has seen my Instagram feed) knows that I am obsessed with all things Disney. The reigning purveyor of magic and fantasy, Disney has played such an integral part in my childhood. Some of my earliest memories are of afternoons spent watching VHS tapes of classic cartoons. Our first family trips was to Florida to visit Disney World. Some kids had posters of their favourite sports figure or music artist on their walls – I had Mickey and Friends. I can't recall a point in my early life where the Mouse & Co. was not present in some form so it's not surprising how much it has impacted and influenced my adulthood.
Sometime in 2015, one of my cousins had told me about a race she had registered to run at Disneyland in California and I was instantly intrigued. I had no idea that such events even took place at the parks (the race events are organized by runDisney which is the road race division of Disney Sports Enterprises, with the first race being held in 1994). I wasn't even a runner at that time but after doing some Googling and seeing the race medals I was determined to run a Disney race. But first I had to start running.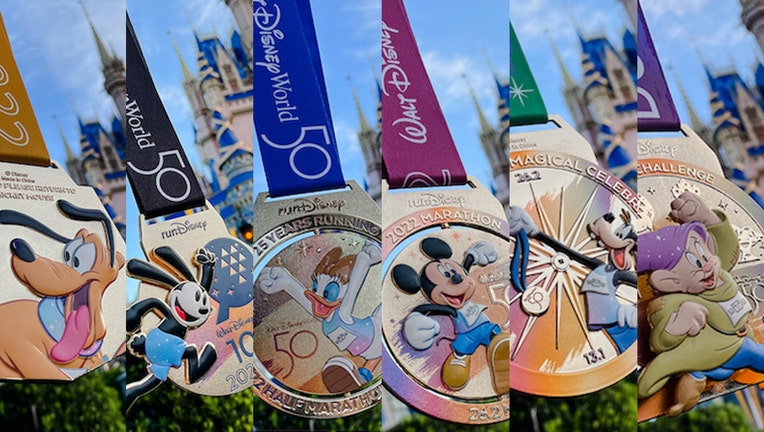 Flash forward to 2022. To date I have been fortunate to have been able to participate in multiple runDisney race weekends at 3 different Disney parks. Currently, Disney World in Florida is the only park where runs are taking place. Sadly, race weekends at Disneyland ceased after 2017 and Disneyland Paris events are on hiatus due to COVID. There are four race weekend events that occur each year, each with their own theming. Typically, there are three race distances throughout the weekend – 5K, 10K and a half marathon. The Walt Disney World Marathon Weekend, held in January, also hosts a marathon in addition to the other three distances. Marathon Weekend, considered to be the crown jewel of runDisney events, draws the highest number of participants. In 2019, there were over 65,000 people registered for the four races. To get a sense of scale, New York City Marathon, the largest marathon in the world, had 53,627 finishers that same year. A big draw for runDisney events is the ability to earn additional medals for registering for and completing challenges that involve running multiple races over the span of the weekend, typically the 10K and the half marathon. Marathon Weekend likes to up the ante by offering two challenges that are specific to this race weekend – the Goofy Race and a Half Challenge, awarded for running the half marathon on Saturday and marathon on Sunday as well as the Dopey Challenge, which tacks on two additional races, a 5K on Thursday and a 10K on Friday. That's a total of 48.6 miles/78.3 kilometres in the span of 4 days!
I completed the Goofy Race and a Half Challenge in 2020, which was the 15-year anniversary. 2023 will be the 10th running of the Dopey Challenge and because I love me an anniversary, that is when I decided to attempt it. So at this point you're probably wondering why I'd be Dopey enough to consider it in the first place? runDisney events are whole different experience from your typical road races. It allows me to combine my love of Disney, travel and running all in one. I'm able to dress up in fun costumes, stop for character photos along the route, go on a ride and cross the finish line with a beverage. There's no other running event where I can be my most extra self and do the absolute most. I try to relish every minute that I'm out on the course so I purposely take my time, having set personal worst times in all the race distances I've done at Disney (a 4:12:45 half marathon and an almost 7 hour marathon) but have set PRs in fun.
One of the beauties of runDisney is that the experience can be whatever YOU want to make of it. Do you want to race it? Amazing! The timed races are on USATF certified courses, are relatively flat and the Disney World Marathon can be used as a qualifier for races such as the Boston Marathon. Want to take your time? The races are walker friendly and have a very generous minimum pace requirement of 16:00 minute/mile or 9:56 minute/kilometre. There are a group of "balloon ladies" at each event who will be the last people to cross the start line and will walk the entire race at the minimum pace. As long as you can keep ahead of the balloon ladies, you will not get "swept" or pulled off the race course.
If this has piqued your interest here are three things to consider:
The races are very popular and as such sell out very quickly. You can find the information for when each race weekend will go on sale on in advance here. The registration usually goes live at 10 AM EST. If you can, plan to block off time in your schedule so you can click on the link as soon as it becomes active. Once you click on the link you'll be put in a virtual queue where you'll have to wait anywhere from several minutes to over an hour until you will be able to register. Your assigned place in the queue appears to be random. It is possible that the race or challenge you want to register for will sell out before you can complete your registration. This is especially true for anniversary years. Registration for the 2023 Marathon Weekend races caused quite an uproar in the runDisney community as the site crashed due to heavy traffic. Hopeful registrants who clicked on the link right at 10 AM saw messages on their screens advising them to stay on the site and not refresh, lest they lose their spot in the queue. Registration did not go live until 12:30 PM and many people who had been patiently waiting were not able to secure a spot for their desired race. All of the in person races sold out in under 70 minutes, with the Dopey Challenge selling out in 40 minutes. Obtaining a successful registration seems to be based more on luck than a first come, first serve principle so prepare to be patient and hope for the best.
If you are prone to sticker shock, then avert your eyes. runDisney races are not cheap.
Yes, these prices are way more than you would pay for local races. You are in part, paying not just for a race but for an experience, which runDisney feels merits the higher price tag. However, when you look at the entry fees of some of the World Marathon Majors, Chicago Marathon $240 USD (non-US residents) and New York City Marathon $295 USD (non-NYRR member), the Walt Disney World Marathon isn't the most expensive race you could run. When you factor in conversion fees, a Dopey race registration is going to set you back around $870 CAD. And that's just the race fee! You'll need to plan and budget accordingly for flight, accommodations and park tickets.
Lastly, respect the distance and commit to your training. When doing the Dopey Challenge completing four races over four days is nothing to snooze at. You will be covering a lot of mileage and for the marathon especially, you'll be doing so on tired legs. Find a training plan that works for you and stick to it. There are lots of free ones – you can find two examples here and here. Muscle memory will be key. You'll have to consider if you want to hit the parks every day or if you will factor in rest time in between races. Sleep deprivation is real. As the courses will run through the parks they have to start before they open to guests for the day. This means that you'll likely be waking up at like 2 AM for a 5 AM start time. Do you want to try and race some or all the races or do you want to stop for a photo at every character stop? Do you want to try and go on a ride? These are just some of the considerations you will have to factor into your race day pacing and plans. The weather in Orlando in early January can also be unpredictable. Some years it has been cold, other years it has been scorching hot. Try your best to be prepared for the unexpected but most importantly have fun!
Because of runDisney I've discovered my love of running. I've also been able to make some pretty amazing running friends that are also Disnerds. After I run the Dopey Challenge next year, I'll be taking a break from Disney for a while to focus on other destination races. The run wilderness must be explored! So it's not goodbye Mickey. It's see ya real soon. I know I'll eventually find my way back home.
To learn more about runDisney events, visit rundisney.com